Wednesday, October 27, 2010
I am now an independent consultant for Thirty-One Gifts! I've been thinking about it for several weeks now, and I finally decided to go ahead and do it. Yes, I know how busy I am already, and that is EXACTLY why I am doing this. I NEED A BREAK! I need something that's JUST FOR ME. Something that gives me a reason to get out of the house once in a while BY MYSELF. And, I could use some extra money for Christmas and stuff.

I LOVE bags and purses and totes and luggage and all that fun, cute stuff. When If I go to a store that has these things, I completely lose track of time looking at them. It's just something I enjoy. It's fun for me. So, I know this will be just the right thing for me right now.

Also, I need hostesses to get started! Please let me know if you would be willing to host a party for me! Hostesses get free stuff! If you can't host, you can just order straight from my website, and you don't have to wait for a party. These products are super cute and you can have them monogrammed too! Here is a direct link to my website. Enjoy!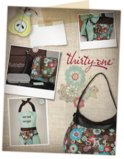 Read more...